Since its inception 500 years ago powerful meditation masters have held the essence of Serang Gonpa and handed the teachings on in an unbroken lineage.
His Holiness Chabjay Dodrupchen Rinpoche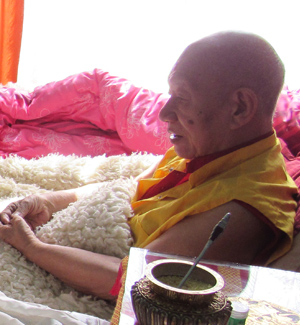 Chabjay Dodrupchen Rinpoche, the Fourth Dodrupchen Rinpoche is one of the most important living masters in the Nyingma and Dzogchen traditions. As the fourth incarnation of Dodrupchen Jigme Thinley Yodzer, HH Dodrupchen Rinpoche is the principal holder of the Longchen Nyingtik teachings.
Born in 1927 in the eastern part of Tibet, his birth was prophesized by the great Fifth Dzoghen Rinpoche Thubten Chokey Dorje, who later recognized him. From an early age he displayed many miraculous signs of attainment, including prescience and visions of the Buddhas. At the age of four, he went to live at the Dodrupchen monastery, where he was enthroned.
HH Dodrupchen Rinpoche studied with the great khenpos of the Dodrupchen and Dzogchen monasteries, and at the age of eleven was given the empowerment and transmission of the Nyingtik Yabshyi and Longchen Nyingtik.
HH Dodrupchen Rinpoche left Tibet in October 1957 and moved to Sikkim where Chorten Monastery is his permanent residence.
A master whose quiet, gentle and unassuming demeanour is complemented by a tremendous presence, HH Dodrupchen Rinpoche personally looks after the welfare of over seven hundred monks including many Tulkus such as Karma Rinpoche and Nuptul Rinpoche. He has given many empowerments, transmissions and teachings to thousands of monks in India, Bhutan and Nepal. Of many great disciples, HH Kunzang Thegchhok Yeshey Dorje is his heart son disciple.
---
His Holiness Kunzang Thegchog Yeshey Dorji (Lopen Rinpoche)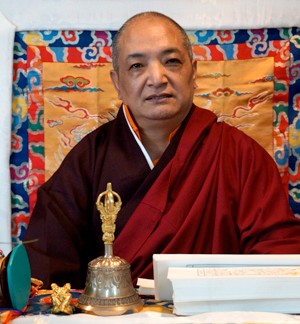 HH Kunzang Thegchhog Yeshey Dorji, commonly known as Lopen Rinpoche, was born in Bhutan in 1957. He is the heart son of HH Chabjay Dodrupchhen Rinpoche. Lopen Rinpoche is not only a great scholar and writer, but also the master to many Tulkus including Karma Rinpoche and Nuptul Rinpoche. Apart from teaching over a thousand monks in Sikkim, Rinpoche has also established a Buddhist institution (Sangha) in Paro, Bhutan.
Today, in the Nyngima Lineage, the two greatest masters, amongst others upholding the Lineage of Dzogchen, are HH Dodupchen Rinpoche and HH Chabjay Jadral Rinpoche. Lopen Rinpoche has received entire teachings from both these masters and spends most of his time in retreat. Lopen Rinpoche now upholds the lineage of Dzogpachenpo from these two great masters.
He has written over thirty five volumes of scriptures in Buddhism ranging from elementary grammar to Vajrayana teachings and is regarded as one of the most scholarly writers in Buddhism today.
---
Karma Minjur Dorji Rinpoche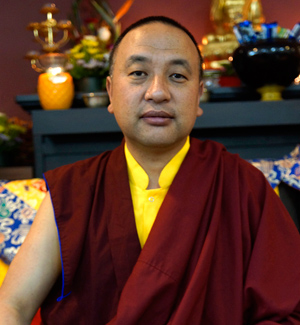 Karma Minjur Dorji Rinpoche was born in Bhutan in 1971. He was recognized by Samrup Tulku Rinpoche as the reincarnation of Dungtse Rinpoche who had been a great disciple of the Tokden Shakya Shri in Tibet. After an enthronement ceremony Karma Rinpoche moved Central Bhutan where the 16th Karmapa confirmed that Karma Rinpoche is indeed the reincarnation of Dungtse Rinpoche.
At the age of 13 Karma Rinpoche began his Dharma studies at Chorten Monastery Sikkim, under the guidance of HH Dodrupchen Rinpoche. He studied for more than 20 years. Karma Rinpoche has received the most important empowerments of the Longchen Nyingthig tradition from HH Dodrupchen Rinpoche. These are the cycle of terma teachings of Jigme Lingpa and the Jangter Dzogchen Gongpa Zanthal ( Northern Treasures) which are the last cycle of teachings given by Guru Rinpoche before he left Tibet.
HH Dodrupchen Rinpoche has appointed Karma Rinpoche one of the spiritual guides of Serang Gonpa. As one of the senior abbots he now takes charge of the ceremonies, Dharma studies and administration of the Monastery.
---
Nuptul Tenpei Nyima Rinpoche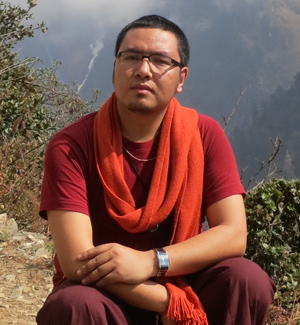 Nuptul Tenpei Nyima Rinpoche was born in December, 1984 in Nubri, Nepal. From a child, he showed characteristics from his former life as a yogi and lama. At the age of 7, he was recognized by HH Dodrupchen Rinpoche as the reincarnation of the great meditator, yogi, and teacher Khedrup Tenpei Gyaltsen. In the same year, Lama Chokyi Nyima Rinpoche, founder of Serang Gonpa brought him to Chorten Monastery in Sikkim where HH Dodrupchen Rinpoche resides.
At his enthronement ceremony, or formal recognition, HH Dodrupchen Rinpoche gave him the name Tulku Jigme Trinley Tenpei Nyima. For fifteen years Nuptul Rinpoche studied under HH Dodrupchen Rinpoche and received the most important empowerments of the Longchen Nyingthig tradition. He also received extensive traditional training in contemplative and Buddhist philosophy. He is a classically trained Tibetan Buddhist Thangka painter, wood carver and is skilled in several traditional Tibetan arts. By the age of nineteen he had also completed the traditional three-year retreat.
In 2007 Nuptul Rinpoche was appointed senior abbot and Dharma holder of Serang Gonpa. As senior abbot he is responsible for the health, well-being and education of over 100 monks and nuns. He raises funds for their upkeep as well as for a number of rebuilding projects.
In 2011 Nuptul Rinpoche was enrolled in the Tenzin Gyatso Scholarship programme in the USA studying world religion, psychology, art and western philosophy. After graduating he began a professional 4 year Tibetan Medicine Training in Massachusetts.
Nuptul Rinpoche is dedicated to spreading the dharma, establishing learning centres and supporting practitioners. He is the founder and spiritual director of Mahasuka, an international Buddhist association of non-profit centres which has the principal intention of preserving the Buddha's teachings.
---
Jigme Chophel Gyatso Rinpoche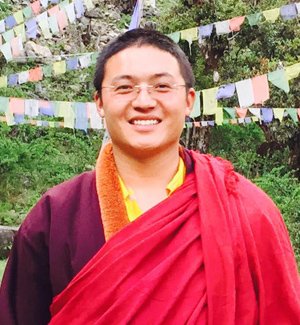 Venerable Tulku Jigme Chophel Gyatso Rinpoche was born in Kyimolung, Nubri in 1991. In his previous life Jigme Rinpoche was a great yogi who was one of the great Dzogchen practitioners. The characteristics of Jigme Rinpoche's past life were so distinct in his current life that he was recognized at the age of two by HH Dodrubchen Rinpoche and the late Chokyi Nyima Rinpoche as the reincarnation of the great yogi Yungdrung Dampa.
At the age of five Jigme Rinpoche was invited by Chokyi Nyima Rinpoche to Nubri monastery where he began his Dharma studies. This included the Buddhist ritual practices under the direction and guidance of Chokyi Nyima Rinpoche and Karma Rinpoche. Jigme Rinpoche engaged intensely in Dharma studies through listening, contemplation and meditation. In 2013 he completed the traditional three year retreat.
Tulku Jingme Chophel Rinpoche is currently teaching the monks and nuns and giving instructions to the retreatants. He is giving his best service to the monastery. He also leads the ceremonies.
---
Kuenzang Drodul Wangpo – Yangsi of the Late Lama Chokey Nima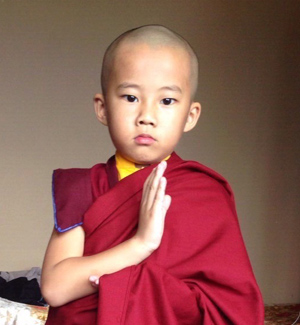 Ugyen Tendhar Gyaltshen was born on 23rd July 2009 in Bhutan. At the age of two and half, he was recognized by HH Dodrupchen Rinpoche as the reincarnation of the late Lama Chokey Nima (commonly known as Nubri Lama) of Serang Gonpa. He was given a new name – Kuenzang Drodul Wangpo. In 2012, HH Dodrupchen Rinpoche performed a simple long life ceremony and offerings of robes to the young Tulku, followed by asmall enthronement ceremony at his main seat of Chorten Goenpa, Sikkim.
Yangsi is currently being educated at Chorten Gonpa under the care of HH Dodrupchen Rinpoche and HH Lopen Rinpoche. Yangsi receives teachings from senior Tulkus such as Gonpo Tulku and Khenpo Thinley and other senior monks.
Yangsi will be the future Dharma holder of Nubri monastery.