History of the monastery
Nubri Monastery also known as Sanchen Rabten Norbuling is a unique monastery located in a sacred, hidden valley known as Beyul Kyimolung (Valley of Peace of Happiness), high in the central Himalayas, near the border of Tibet. After Guru Rinpoche and Jetsun Milarepa visited Kyimolung Valley, Chokyi Gyaltsen settled there and 500 years ago built the monastery establishing the traditions of the Buddha's teaching in this valley of peace.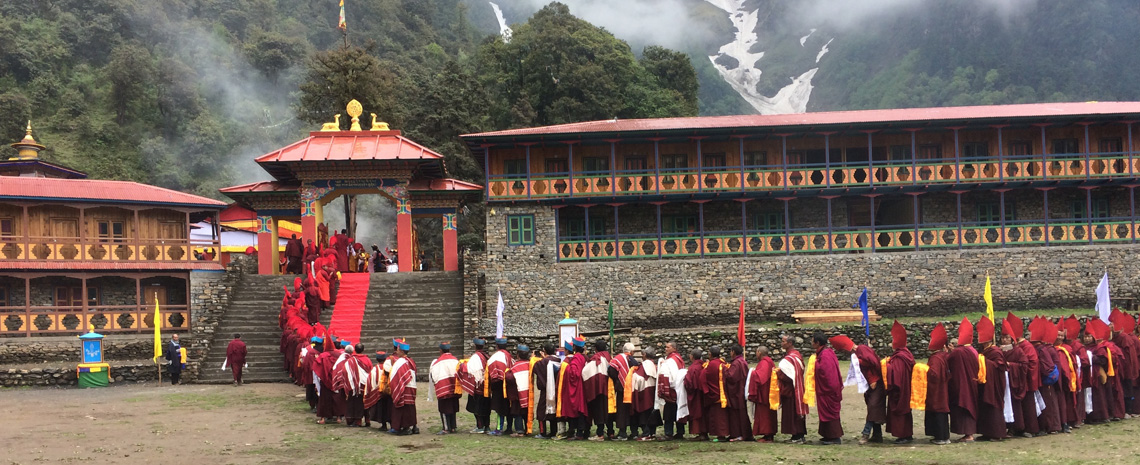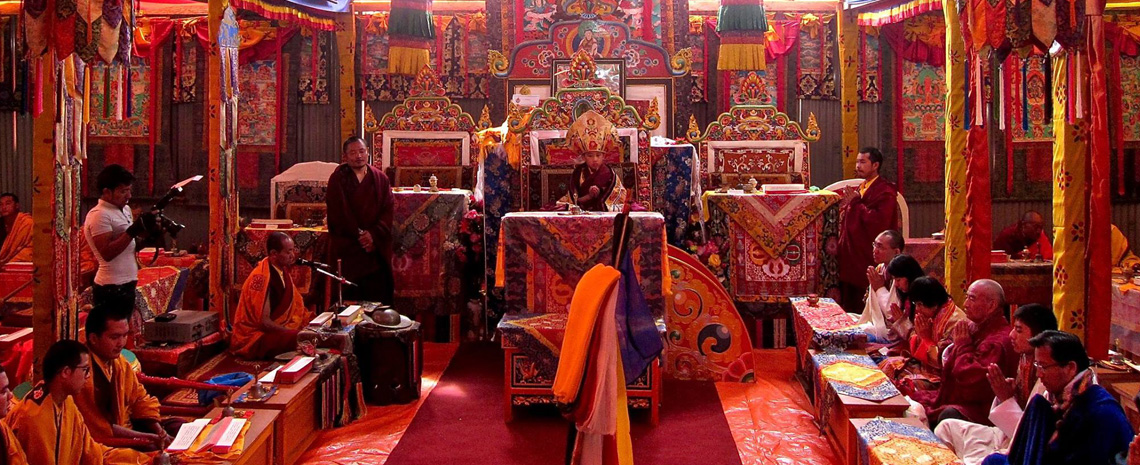 Many yogis lived freely and wildly in the Valley. Seven of the yogis who practiced there attained the rainbow body. Over time the monastery buildings fell into disrepair but thirty years ago the late Chokyi Nyime Rinpoche re- established the monastery into the sanctuary it is today.
Nubri Monastery is a branch monastery of H.H. Chabjay Dodrupchen Rinpoche's monastery (Chorten Monastery) in Sikkhim.
According to terma, or the treasure teachings of the Indian Master and the originator of Tibetan Buddhism Padmasambhava (Guru Rinpoche), this valley was prophesied as a place of refuge for Buddhist practitioners which would always be protected. He said:
In future times, when there will be warfare, strife, and difficult circumstances in the world, Kyimolung will be a safe haven where people can go to practice and warfare will never enter."
Nyingma
Padmasambhava introduced the people of Tibet to the Tibetan practice of Buddhism and is regarded as the founder of the Tibetan Buddhism. Nyingma Lindage of Tieban Buddhism is the oldest of the four major schools of Tibetan Buddhism and literally means "ancient". It is founded on the first translations of Buddhist scriptures from Sanskrit into Tibetan from the eighth century. This tradition particularly believes in hidden terma treasures. Traditionally, Nyingmapa practice was an oral tradition among a loose network of lay practitioners. Monasteries with celibate monks and nuns, along with the practice of reincarnated spiritual leaders are later adaptations. Padmasambhava is regarded as the founder of Samye Gompa, the first monastery in the Tibet.
The growth of nationalism in the 20th Century and the increasing desire for well-defined borders to eliminate sources of friction led to the need to legally define the Nepal – Tibet border. The border lines were only finally drawn in 1960. And, in the prophesies of Guru Rinpoche that this monastery would always be a place where the dharma could be practiced, the border with Tibet was drawn just 6kms to the north of Nubri monastery meaning the monastery is still free to continue and flourish.
Milarepa, the great yogi and poet (1052-1135), came to practice in the Kyimolung region and spent time there in meditation retreat. His cave and his footprints can still be seen.
Guru Rinpoche himself, came to bless this valley. Serang Gonpa (Nubri Monastery) is in front of the mountain of Tashi Palsang where heart treasures (termas) are hidden.